FICON Server
The BARR/PRINT Channel FICON solution is a sophisticated and universal Host connectivity solution. It consists of two components:
A FICON Server with FICON adapters and
The Barr Host Communication Suite
BARR/PRINT Channel FICON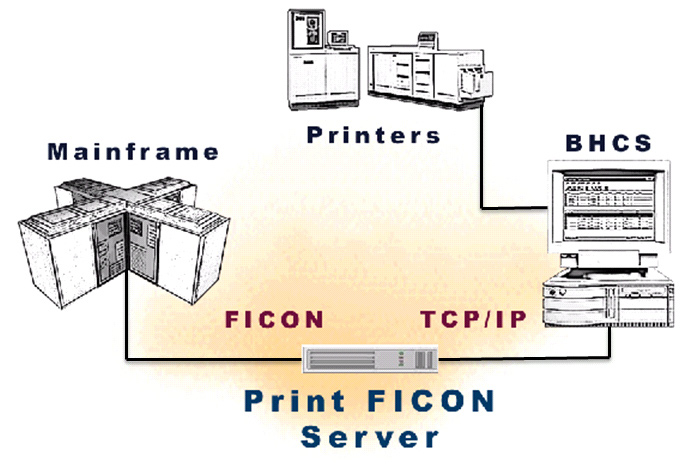 The BARR/PRINT Channel FICON solution is a two PC/Server solution.
Expanding the Enterprise: The Print FICON Server is designed to provide support for up to 64 CUIs (LPARs) and 1024 sessions spread across multiple CPUs in multiple locations. Capable of access and management from anywhere in the world, the Linux Server offers a dynamic solution for your enterprise.
Powerful Features: The Print FICON Server comes standard with two 10/100/1000 Mbps Ethernet interfaces. Each interface on a FICON adapter is capable of supporting up to 16 CU images (LPARs) and 256 sub channels (sessions).The FICON interfaces auto negotiate 2.125 Gbps, 4.25 Gbps, or 8.5 Gbps clock rates with the attaching host interface for maximum throughput.
Keay Features
FICON Host Connectivity
Single Port or Dual Port Adapters Available
Table Top or Rack Mountable Design
Web-based Configuration