DocForm
DocForm is very powerful and yet not complicated. The longer I work with DocForm the more I love it. DocForm is just genius! "
DocForm has been designed from the beginning for generating high-volumes of highly personalized print jobs. DocForm generates B/W and colored print output like invoices or customer letters etc. these documents can be dynamic and can contain photos, graphics and diagrams. DocForm can generate not only print output, but PDFs, TIFF, and other document formats. DocForm is outstanding suited for the electronic communication like personalized e-mails or sending of SMS messages. DocForm can generate index and metadata tags as well, in order to feed a document management system like DocRecord with documents.
DocForm Workflow Manager
The integrated workflow manager allows designing demanding and intelligent workflows thanks to its powerful features, without having programming knowledges. If java scrips are embedded, very high complex workflows can be created. External programs can be used for a preprocessing or post processing step or in the middle of the workflow. Therefore everything is doable! Applications that could not become reality are now possible.
DocForm Server and DocForm Designer – Easy to Use
The installation package consists of DocForm Server and DocForm designer. The DocForm server is a Windows service that executes the projects which were created with the DocForm Designer. It is easy to create projects with the DocForm Designer. The IDE Integrated Development Environment) is clearly structured. That makes it very easy creating and testing a project.
How DocForm works
The following diagram points out the principle functions: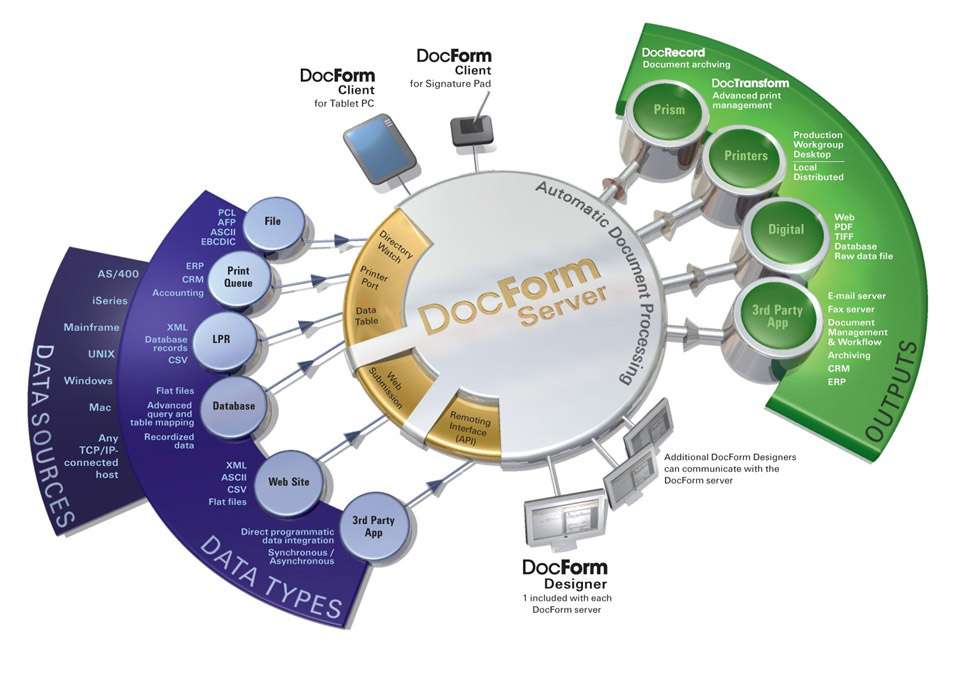 Inputs
DocForm Designer
Outputs
Data Sources
Data Formats
Data Bases
Print Queues
XML files
Easily create all
types of print
and electronic
projects

WYSIWYG:
Formatted data
merged in forms:
See changes instantly!
Print jobs (PS, PCL)
PDF, Word
e-mail, Fax, XML
Personal URLs
Microsoft SharePoint